Bring your dreams to life through our timeless designs, tailored to perfection
Start with Settings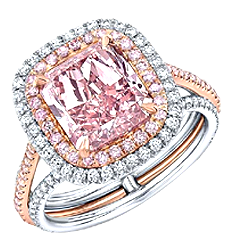 ENGAGEMENT RINGS
Delight in the beauty of your love, now & forever with the finest gemstones and fancy colored diamonds that exist.
Shop engagement rings

SHOP GEMSTONE JEWELRY
Revel in the luxuries of royalty for the precious moments in life
Shop gemstone jewelry
"Ring"
Kendall Jenner, Bella Hadid, Jennifer Lopez and Demi Lovato were just a few of the many celebrities to accessorize with big hoop earrings in 2017 – and that makes it a popular jewelry trend for 2018. Over the last half century, hoop earrings have popped in and out of style, with their biggest moment in the 1960s and early 1970s. But the style is far older: It was in vogue as long ago as 2500 BCE among Sumerian women, as well as in ancient Greece and Rome. Hoops even dangled from the earlobes of pirates. Now the look is back in a BIG way – meaning jumbo-size hoops.
Bought pink diamond it was excellent & cheap! It's worth buying from Ghoshi Exports.
40% to 60% Minus Rapaport
Price on White Diamonds